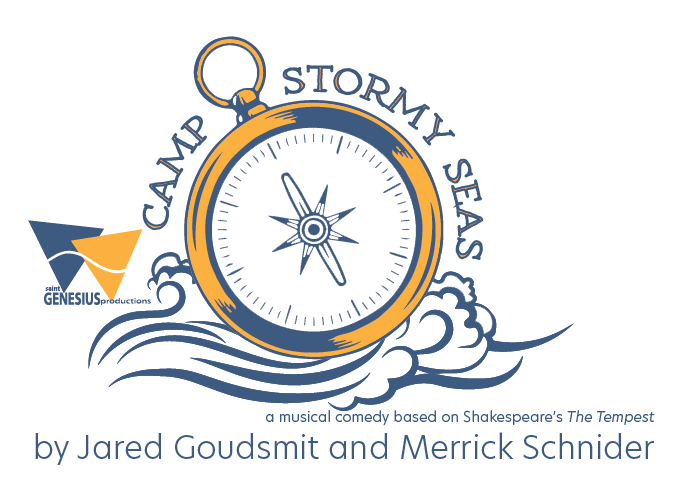 This summer, we bring you a "campy" musical theater world premiere, based on William Shakespeare's The Tempest at the Ruggard Gazebo in Villa Park. Saint Genesius Productions is delighted to present this brand new show, written by Jared Goudsmit and Merrick Schnider! Magic, merit badges, competing leadership styles, and summer romance take center stage at 7:00 p.m. on Friday and Saturday, July 28 & 29 and August 4 & 5.
The event is FREE, but there's a suggested donation of $15 per person to benefit Saint Genesius Productions. Thanks to the generosity of Villa Park's Village staff and the wonderful folks at the Park department, we'll be able to bring these four live performances to the public square for all to enjoy. Bring your blankets and lawn chairs for a front row seat!
CAST
STORYTELLERS
MIA LODUCA, Kelsey
ZARI BAJIC, Darla
BOBBY ERNST, Joel
LIANA CLOT, Hope
JIMMY BRYERS, Eddie
CONNOR MACLEOD, Noah
CAMP STORMY SEAS
AMELIA TORTORICI, Perrin
NOLAN FERRIS, Arlo
GILL FALCO, Georgia
MAGGIE BRENNAN, Minerva
JACK MAY, Counselor/Ensemble
BETHANY YURICH, Counselor/Singer/Ensemble
TIM WAGNER, Singer/Ensemble
BENNY CLOT, Camper/Ensemble
EVERETT CLOT, Camper/Ensemble
JOSHUA JACKSON, Singer/Ensemble
ROSEMARY ROZARIO, Singer/Ensemble
FORT KODIAK
ERIC EDSTROM, Atticus
JESS MATASEK, Stacey
SEAN O'BROCHTA, Freddie (July)/Ensemble
MICHAEL POIRIER, Freddie (August)
LOGAN PUFAHL, Tyler
JASON ZHAO, Sebastian
OUTCROPPERS
NEERAJA KUMAR, Sylvia
MILO BARNETT, Ash
JACLYN BRYERS, Magnolia
KELLEN FERRIS, Cameron
LEO KAMM, Willow
IN THE PIT
MUSIC DIRECTOR • Ralph Petrella
PIANIST • Linda Radtke
PERCUSSION • Mohammed Salman
BASSOON • Genevieve Corkery
CELLO • Kaylynn Kattiyaman
DIRECTORS, DESIGNERS, AND CREWS
FIGHT DIRECTOR • Andrew Trygstad
SOUND DESIGN • Andrew Speidel
SOUND CREW • Jake Frank, Abe Kamm, Connor Welker
COSTUME DESIGN • Kathryn Clot
LIGHTING DESIGN • Kim Petrella
SET DESIGN • Marcus Petrella
SCENIC CREW HEAD • Tom Fitzmaurice
SCENIC ARTIST • Eddie Corkery
SCENIC CREW • Molly Brennan, Vex Elvery, Melissa Fitzmaurice, Erick Krenzel, Jace Bullivant
PROP CREW • Liana Weaver, Janice DeAngelo, Sara Corkery
TECHNICAL DIRECTORS • Marcus Petrella, Kim Petrella
STAGE MANAGER • Ash O'Connor
ASSISTANT DIRECTOR • Shea Downer
CO-DIRECTORS • Genevieve Corkery, Sara Corkery
Special Thanks
Matthew Harline, Cheryl Wagner, and the Village of Villa Park staff, especially Greg Gola, Hannah Watkins, and Suzanne Earl of the Parks and Rec Department; Laura Schnettler and the Chamber of Commerce; the Village of Villa Park Board, especially Deepasriya Kumar and Jack Corkery; Emma Ryan; Tim and Eileen Wagner; Beth Tortorici; and all of our generous sponsors and donors: 3d Complete Care Care & Tires, Anyways, Billy Bricks Wood Fired Pizza, Chicagoland Beer and Wine Makers, Glendbard Family Dental, I Love Frys, Jade Carpentry Contractors, Michael Anthony's Pizza, Minuteman Press, Purple Manatee Resale Shop, Simon's Restaurant, Villa Park Dairy Queen, and the Villa Park Masonic Lodge.
Please support the generous sponsors who helped to make this production possible.
Click on the logo to visit the website!
---
---
---
---
---
---
---
---
---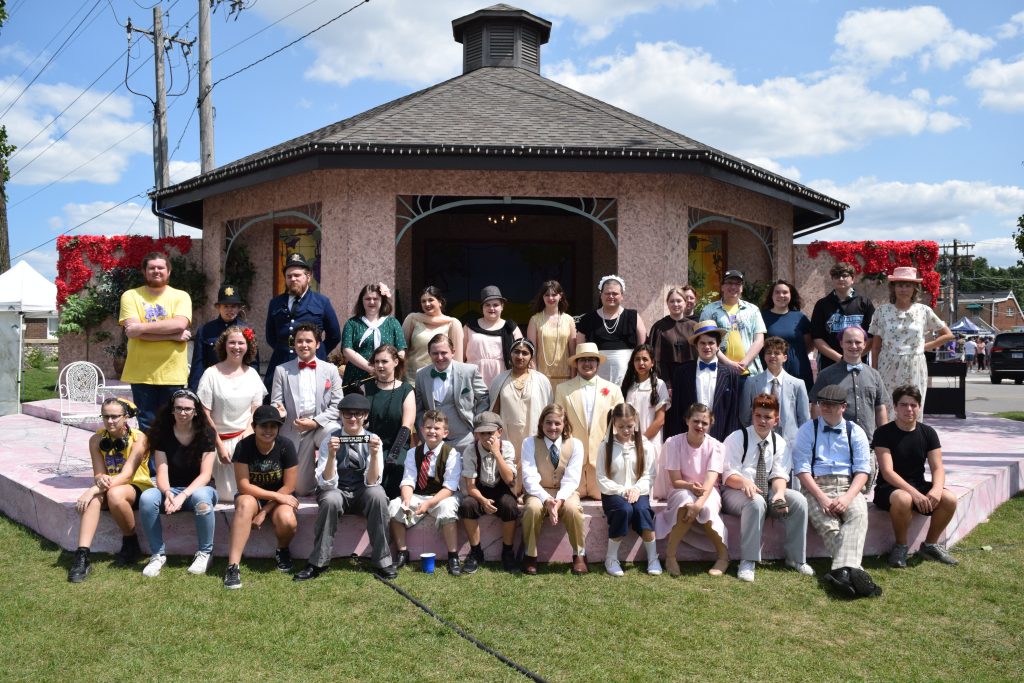 Last year's cast and set for Much Ado About Nothing at Villa Park's Ruggard Gazebo